Asian Dragon Tattoos meaning . 

Dragons are mythological creatures that is both fearsome and beautiful and is the subject of folklore around the world. This is one of the most required styles of designs for tattoos, and I love to make custom designs and stencils of Asian/Chinese/Japanese Dragons for my clients.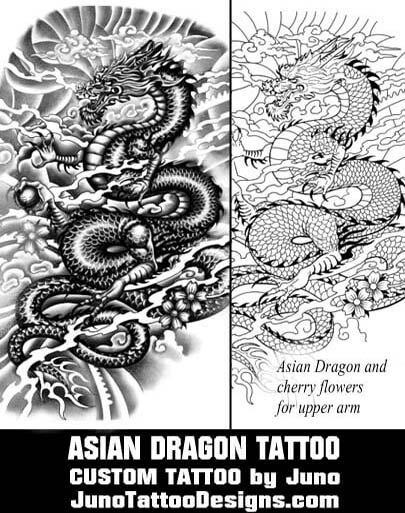 ASIAN DRAGONS MEANING: The Chinese Dragon is a protector. He represents the divine, thus providing security at home and who wears it will be protected and adopts its qualities in life. It attracts natural and cosmic forces. The Asian dragon brings good fortune.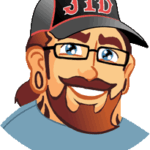 I'm Juno, professional tattoo designer. I have made thousands ( yes, thousands!) of custom designs for tattoos in all themes and sizes. Based on your design info I'll draw up a rough draft for you to consider and then with your input will refine the drawing until you are completely satisfied with the end result. The final design will be sent to you via email along with a made to fit line drawing ready for you to print out and take to your favorite tattoo artist.
I would like to do the best custom design for your tattoo.
ANOTHER JAPANESE and CHINESE TATTOO DESIGNS MADE BY ME: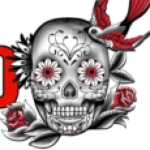 JunoTattooDesigns.com is an online studio of custom tattoos made to order.
HOW TO START:
Three easy steps to your own custom tattoo design:
Step 1:

Contact me and describe the design you want for
your tattoo:size, tattoo theme, elements, characters, black
and grays or colors (you can send me some sample
pictures if you have seen some images that you love)

Step 2:

You and I will work together step by step, by email,
to make the best custom design and stencil for your tattoo

Step 3:

Receive by email the best custom tattoo design
and stencil, ready to print and bring to the tattoo shop in your area.

The transaction was extremely smooth. Communication was great and his skills are amazing. I finally got a design that blends perfectly well with my existing tattoo and at record time. Thank you Juno.

Juno did a great job designing an Japanese dragon tattoo for my full arm. I love my tattoo!. My tattooist has been surprised by the quality of Juno's work.
START NOW: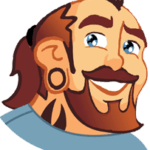 Email me or send me a contact form below and start the best custom design for your tattoo now

---

---
Copyright ©2011  junotattoodesigns.com &  junotattooart.wordpress.com – All rights reserved