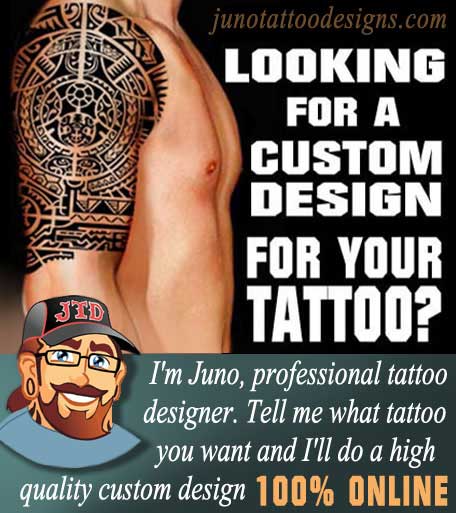 (update July 6, Monday)

Hi all!. Despite the crisis, as always, I continue creating your tattoo designs 100% ONLINE!!. It is a good time to get your custom design ready to ink when the crisis is over.
I've finished and

sent to the customer a cool Polynesian tattoo

design for a full arm and a cool Polynesian tattoo with Madalorian logo.





This crisis will pass, do not waste time! You and I we will work together, ONLINE, creating your dreamed tattoo! START NOW!
Tell me what design you want and you and me will work together

ONLINE

, by email, creating your dreamed tattoo.

These are some samples of my custom tattoo designs. It will be a pleasure to create the best design for your tattoo 100%

ONLINE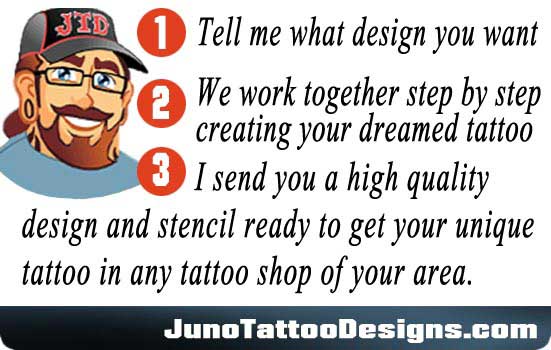 Over

3000

Custom Tattoo Designs and templates made to order in all styles !!
CUSTOMER TESTIMONIAL
"It was an absolute pleasure working with Juno on my Polynesian Tattoo design. I explained to Juno that I wanted certain Symbols to represent specific things in my life and he was able to incorporate everything I wanted and more into a beautiful design. Even the tattoo artist who tattooed me was extremely impressed with Juno's design. From my first email to Juno to the final draft of the tattoo design, it took three days. Juno really knows his stuff and I would recommend him to anyone that wants a professional to design their tattoo. Thanks Juno!  
Cyril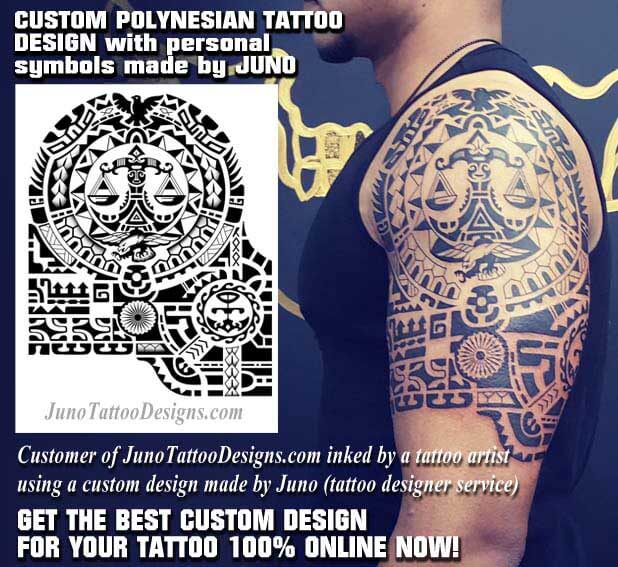 Thank you for choosing my design for your tattoo, Cyril!! 
ARE YOU READY TO START YOUR CUSTOM TATTOO DESIGN NOW? Choose the tattoo style you want
Questions? Send me a form or email me to juno(arroba)junotattoodesigns.com
Juno (professional tattoo designer)

I have made custom tattoos for people of United States, Canada, Australia, Brazil, Italy, New Zealand, Spain, Finland, the Netherlands, Belgium, France, Switzerland, Germany, Norway, Sweden,Greece…Are you ready to start yours?
CUSTOMER TESTIMONIALS
Fabulous communication, perfect design, simply amazing!!!!
Juno did a great job on my tattoo design. He was fast and very responsive and together we came up with a design that not only looks great but also I ncorporates symbols that are meaningful to me. I'd recommend him to anyone. Thanks Juno!
***************************

*****************************
D

o you want a Polynesian design right now ready get your ink in a few hours ? This is a NON custom T

ATTOO DESIGN AND STENCIL READY TO BUY and USE – You can buy this NON custom, but finished Polynesian Tattoo with Sun and Turtle ready to ink.
Click on the BUY NOW button and make the payment through PayPal with a credit or debit card or PayPal
I email you this tattoo design and stencil ready to make this Polynesian tattoo in any tattoo shop of your area.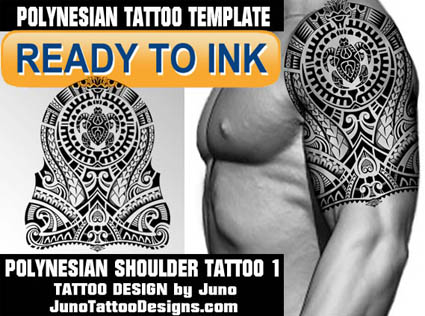 Polynesian shoulder tattoo 1.
$50
(Product Code Poly-Shou-1) Original design size: 10,5 x 8,5 inches (26 x 22 cms)
(Your tattoo artist can resize the tattoo template if this will be necessary)
POLYNESIAN TATTOO READY TO USE – Finished Polynesian Tattoo with Sun and Turtle ready to ink.
Questions? Send me a form or email me to juno(arroba)junotattoodesigns.com

---
Copyright ©2011  junotattoodesigns.com &  junotattooart.wordpress.com – All rights reserved