I'm Juno, professional tattoo designer. Tell me what design you want for your tattoo and I'll do a high quality custom design according your own specifications.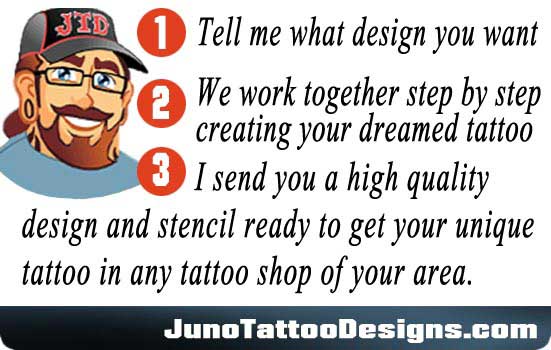 Over

3000

Custom Tattoo Designs and templates made to order 

 
HOW MUCH DOES A TATTOO DESIGN COST? 
My pricing is based on the complexity, theme and size of each tattoo design.

********
(update March 18, Mon

day

). Hi all!  I've finished and sent to the customers a couple of custom tattoo designs in Polynesian style and a cool Celtic tattoo.

Thank you all for choosing my tattoo designs !! 



***************************
As

always, answering your requests

. Please be patient and thank you very much everyone for your interest in my tattoo designs!!!.
POLYNESIAN TATTOO  (full arm) made by Juno (custom tattoo designs ONLINE)

********************
POLYNESIAN SAMOAN TATTOO (upper arm) by Juno (tattoo designer online)

***********************
POLYNESIAN TATTOO FOR 3/4 sleeve (shoulder to below the elbow)



CUSTOMER TESTIMONIAL
"It was an absolute pleasure working with Juno on my Polynesian Tattoo design. I explained to Juno that I wanted certain Symbols to represent specific things in my life and he was able to incorporate everything I wanted and more into a beautiful design. Even the tattoo artist who tattooed me was extremely impressed with Juno's design. From my first email to Juno to the final draft of the tattoo design, it took three days. Juno really knows his stuff and I would recommend him to anyone that wants a professional to design their tattoo. Thanks Juno!  
Cyril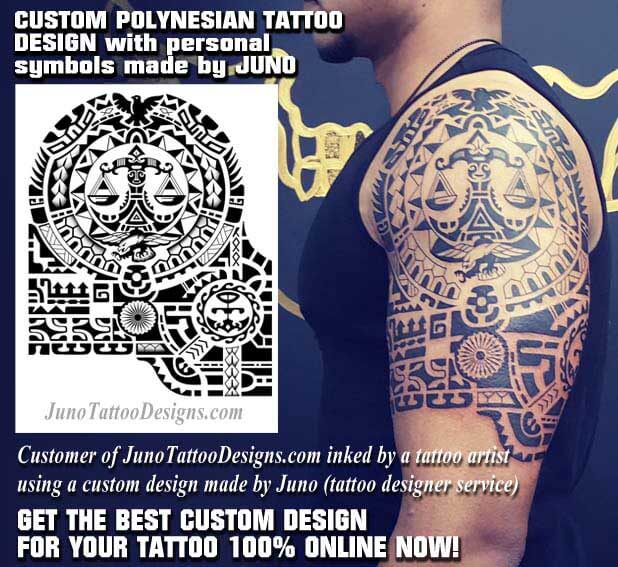 Thank you for choosing my design for your tattoo Cyril!! 
Great quality work! Good communicator and I didn't have to change a thing on the design. Juno made it according to my liking from the start. So glad I got it designed to my liking as opposed to getting a random tat. I highly recommend his service! Thanks Juno!
Amazing work! I love my tattoo. Juno has done a magnificent design for my tattoo. Highly recommended!!
Joseph
***

Are you ready to start your custom tattoo?

***
Contact me and start your design NOW! 

Send me the contact form below and we'll work together creating the best custom design for your tattoo

%100 online.
IMPORTANT! Read before you ask or send a tattoo form:
*I do not make designs for cover-ups (not I cover old tattoos).
*You must be an adult person (18+)
***************************


---
Copyright ©2011  junotattoodesigns.com &  junotattooart.wordpress.com – All rights reserved