I've made dozens of custom tattoo designs of angels, archangels, warrior angels and Saint Michael.

It will be a pleasure to create a unique tattoo design for your tattoo 100% ONLINE!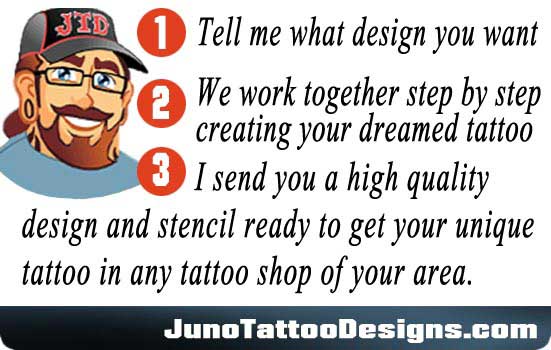 HOW MUCH DOES A TATTOO DESIGN COST? A custom tattoo design with one character (archangel or Aztec warrior or Viking warrior or grimm reaper or Zeus god…) plus background  for the shoulder or calf or inner or outer forearm cost $180.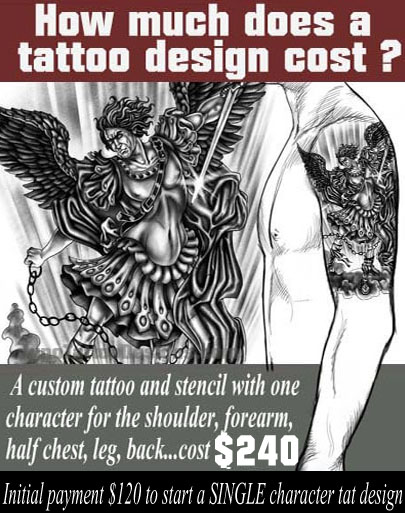 READY TO GET YOUR CUSTOM TATTOO DESIGN 100% ONLINE?

Send me a

Tattoo Form

below to tell me what design you want and I'll send you a quote and when we can start.
**DO YOU WANT to get your CUSTOM TATTOO ASAP? After sending the Tattoo Form below, check out my tattoo galleries to find one similar to the one you want (tattoo theme, body area, number of characters) and make the initial payment to start the tattoo design. I will contact with you to confirm your payment and start your tattoo immediately.  (note that I cannot make tat designs online to cover scars or old tattoos. I recommend to see this in a tattoo shop in your area)
CUSTOMER TESTIMONIALS
Many thanks to Juno super friendly and made a design that exceeded my expectations, would recommend to anyone!!
Hit the design concept with the first sketch. quick turn around on suggestions for design updates. Final design was better than what i pictured in my head. highly recommend this artist.
Contact me and start your design NOW! 

Send me the contact form below and we'll work together creating the best custom design for your tattoo %100 online.
IMPORTANT! Read before you ask or send a tattoo form:
*I do not make designs for cover-ups (not I cover old tattoos).
*You must be an adult person (18+)