I've made dozens of custom tattoo designs of angels, archangels, warrior angels and Saint Michael.

It will be a pleasure to create a unique tattoo design for your tattoo 100% ONLINE!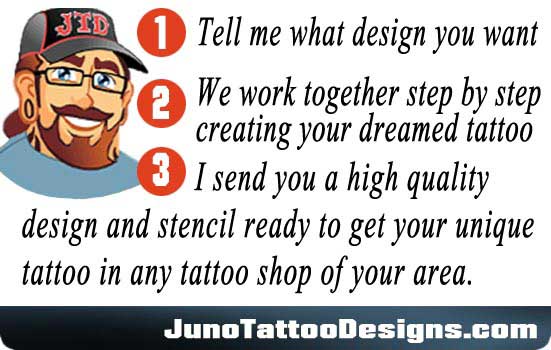 HOW MUCH DOES A TATTOO DESIGN COST? A custom tattoo design with one character, a SINGLE TATTOO DESIGN with one character , for example: an Archangel, or an Aztec warrior, or a Viking warrior, or Grim reaper or Zeus god with some background  for the shoulder or calf or inner or outer forearm cost $240 ($120 to start the drafts of a custom tattoo like these).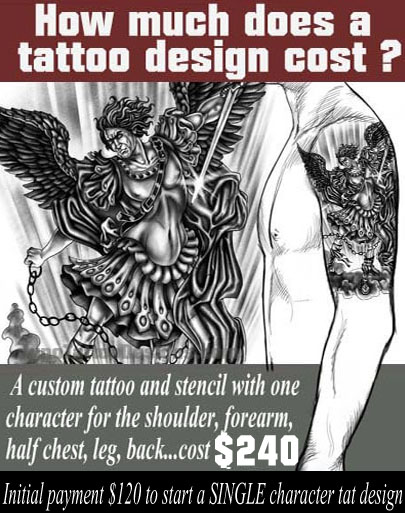 These are other samples of SINGLE tattoo designs made by me:
If you want a SINGLE tattoo design, make the initial payment using the PayPal button and send me a contact form and I'll contact you TODAY to start the best custom design for your tattoo.$120 to start your dreamed tattoo design
CUSTOMER TESTIMONIALS
Brilliant service and really fast. from start to finish in a matter of days and a great design
Juno did a great job designing an Japanese dragon tattoo for my full arm. I love my tattoo!. My tattooist has been surprised by the quality of Juno's work.
Contact me and start your design NOW! 

Send me the contact form below and we'll work together creating the best custom design for your tattoo %100 online.
IMPORTANT! Read before you ask or send a tattoo form:
*I do not make designs for cover-ups (not I cover old tattoos).
*You must be an adult person (18+)