AZTEC TATTOOS by Juno (custom tattoo designer) :
Ancient Aztec art was primarily a form of religious expression and a means for paying tribute to their gods. In addition, various forms of Aztec art were used to assist in communication. Aztec art such as pictographs, paintings and warrior drawings can still be seen on the walls of their temples and within their ancient artifacts.
These beautifully crafted designs are still admired today and they are a fountain of inspiration to make the most strong and masculine designs for tattoos.
AZTEC DESIGNS and SYMBOLS: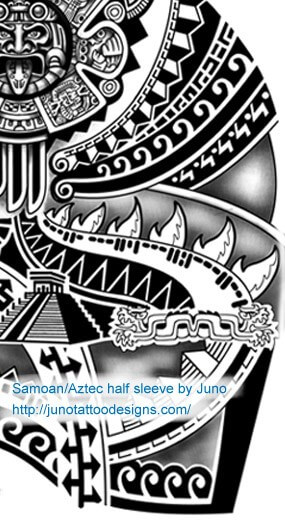 Aztec Calendar is the most popular element in Aztec Tattoos. This design is used as main element for upper sleeve tattoos (shoulder area) and chalf chest tattoos.
Feathered Serpent: this image represent the Aztec god Quetzalcoatl, one of the main deities of pre-Hispanic civilizations.
Tezcatlipoca: He is the Lord of heaven and earth, source of life, guardianship and protection of man, source of power and happiness, owner of battles, omnipresent, strong and invisible.
Aztec Warrior: a strong style of design like an "Aztec Gladiator", as symbol of protection and strength to who wears the tattoo. A female warrior looks good too.
Other aztec designs to add: Aztec temple, warrior head, skull, aztec alphabet, jaguar, eagle.
Sometimes I've make tattoos combining Aztec symbols and characters plus Polynesian art: they looks great!.
---
These are some of my custom Aztec tattoo designs made to order for customers of this online studio JunoTattooDesigns.com
Juno (professional tattoo designer)
---
Are you looking for a custom design for your tattoo? I would like to do your custom tattoo designs now.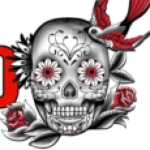 You can get here the best custom design for your next tattoo.
JunoTattooDesigns.com is an online studio of custom tattoos made to order.
The Design Process : "Based on your design info I'll draw up a rough draft for you to consider and then with your input will refine the drawing until you are completely satisfied with the end result. The final design will be sent to you via email along with a made to fit line drawing ready for you to print out and take to your favorite tattoo artist."
Juno (professional tattoo designer)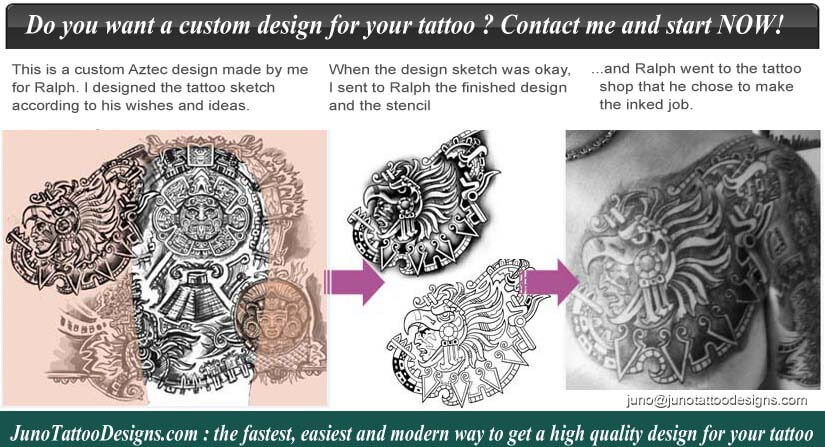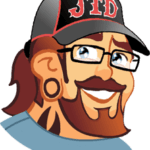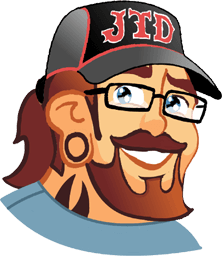 ABOUT ME : I'm Juno , professional tattoo designer. I have made thousands ( yes, thousands!) of custom designs for tattoos in all themes and sizes. These are some of my custom designs and templates made for people who are looking for an unique tattoo design.
Over 1000 Custom Tattoo Designs and templates made to order 
I would like to do the best custom design for your tattoo.
HOW I WORK:
Three easy steps to your own custom tattoo design:
Step 1:

Contact me and describe the design you want for
your tattoo:size, tattoo theme, elements, characters, black
and grays or colors (you can send me some sample
pictures if you have seen some images that you love)

Step 2:

You and I will work together step by step, by email,
to make the best custom design and stencil for your tattoo

Step 3:

Receive by email the best custom tattoo design
and stencil, ready to print and bring to the tattoo shop in your area.
    Juno (custom tattoo designs) 
My pricing is based on the complexity, theme and size of each tattoo design. Here are some samples to give you a sense of what a custom tattoo design will cost.
CUSTOMER TESTIMONIALS
It was an absolute pleasure working with Juno on my Polynesian Tattoo design. I explained to Juno that I wanted certain Symbols to represent specific things in my life and he was able to incorporate everything I wanted and more into a beautiful design. There were a few things that I needed to have tweaked and Juno was very quick to make the necessary adjustments to get to my final Draft. I was extremely impressed with the level of knowledge that Juno had with the Polynesian symbols. Even the tattoo artist who tattooed me was extremely impressed with Juno's design. From my first email to Juno to the final draft of the tattoo design, it took three days. Juno really knows his stuff and I would recommend him to anyone that wants a professional to design their tattoo. Thanks Juno!
The finished stencils and sketches turned out amazing!
START NOW:
Email me or send me a contact form below and start the best custom design for your tattoo now

*Please check your spam folder if you have not received my response within 72 hours. Thank you.
---

---
Copyright ©2011  junotattoodesigns.com &  junotattooart.wordpress.com – All rights reserved