Beauty and spiritual Lotus flower tattoos

– Also as part of a Tibetan Buddhist tattoos.

Tattoo Designer System:  

I offer a system of custom tattoos and you can create your design here


TATTOO MEANING:
The lotus has been a symbol of purity since before the time of the Buddha, and it blooms profusely in Buddhist art and literature. Its roots are in muddy water, but the lotus flower rises above the mud to bloom, clean and fragrant.
In Buddhist art, a fully blooming lotus flower also signifies enlightenment (in Buddhism & Hinduism a state in which the individual transcends desire and suffering and attains nirvana.), while a closed bud represents a time before enlightenment. Sometimes a flower is partly open, with its center hidden, indicating that enlightenment is beyond ordinary sight.
In tattoos many people seek lotus flowers tattoos also for their beauty, and as part of a more complex Tibetan Buddhist spiritual design. There are two major styles to represent lotus flowers in tattoos: realistic and henna.
These are some samples of my lotus flowers in custom tattoos in Buddhist and Tibetan themes.
Are you looking for a custom design for your tattoo? I would like to do your custom tattoo designs now.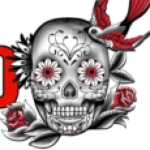 You can get here the best custom design for your next tattoo.
JunoTattooDesigns.com is an online studio of custom tattoos made to order.
The Design Process : "Based on your design info I'll draw up a rough draft for you to consider and then with your input will refine the drawing until you are completely satisfied with the end result. The final design will be sent to you via email along with a made to fit line drawing ready for you to print out and take to your favorite tattoo artist."
Juno (professional tattoo designer)
ABOUT ME : My name is Juno and I'm a professional tattoo designer. I have made thousands ( yes, thousands!) of custom designs for tattoos in all themes and sizes. These are some of my custom designs and templates made for people who are looking for an unique tattoo design.
I would like to do the best custom design for your tattoo.
HOW I WORK:
Three easy steps to your own custom tattoo design:
Step 1:

Contact me and describe the design you want for
your tattoo:size, tattoo theme, elements, characters, black
and grays or colors (you can send me some sample
pictures if you have seen some images that you love)

Step 2:

You and I will work together step by step, by email,
to make the best custom design and stencil for your tattoo

Step 3:

Receive by email the best custom tattoo design
and stencil, ready to print and bring to the tattoo shop in your area.
    Juno (custom tattoo designs) 
START NOW:
Email me or send me a contact form below and start the best custom design for your tattoo now

---

---
Copyright ©2011  junotattoodesigns.com &  junotattooart.wordpress.com – All rights reserved