Foo dogs or Fu dogs are, in fact, lions. Since the lion is an animal consecrated to Buddha. These animals do not appear in primitive Chinese art. Buddhism introduced them as defenders of the law and protectors of sacred buildings.
These animals are also known as "dogs of happiness" or "celestial dogs" and are emblems of courage and energy, indispensable complements of wisdom.
The symbolism of the lions of Fu is also considered in the studies on Feng Shui associated with vigilance, fair play and the defense of the weak.
This is a custom FOO DOG tattoo design made to order by Juno (custom tattoos online)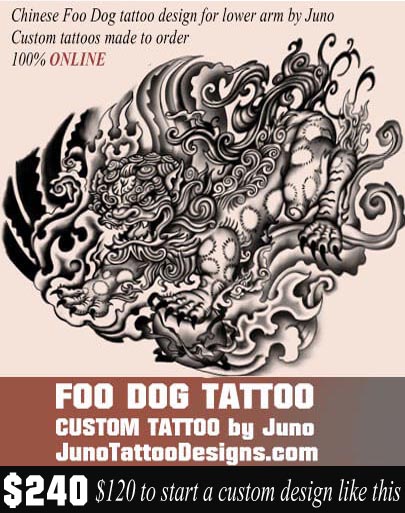 Looking for a custom Fu Dog design made by me for your next tattoo? It will be a pleasure to create this design for you!
This is how I work: a FU DOG TATTOO DESIGN just made for you, with the tattoo stencil ready to ink in the tattoo shop of your area, cost
$240

. Make the initial payment of

$120

and I'll contact you in a few hours

*

to start your custom tattoo)
*Fortunately, I receive dozens of tattoo requests per week, so I must give priority, and respond within 24 hours, to those clients who have made a down payment to start their tattoos.
START NOW!
F.A.Q.s
Why I should make an initial payment to start the drafts? Fortunately, I receive a lot of request by week and I cannot start a tattoo design for free for each potential customer. Thanks for your understanding!
Is this a secure purchase? Is my personal information protected? All purchases are handled through a secure PayPal transaction. No sensitive information is exchanged on my site, or outside of PayPal.
How we will work in the tattoo design? We work by email. I have made thousands of tattoo designs 100% online since 2010 for people of USA, Canada, Brazil, France, Italy, Spain, Australia, Norway, Filipines,New Zealand, Mexico and many others.
Great quality work! Good communicator and I didn't have to change a thing on the design. Juno made it according to my liking from the start. So glad I got it designed to my liking as opposed to getting a random tat. I highly recommend his service! Thanks Juno!
Juno did a great job designing an Japanese dragon tattoo for my full arm. I love my tattoo!. My tattooist has been surprised by the quality of Juno's work.
---

---
Copyright ©2011 junotattoodesigns.com & junotattooart.wordpress.com – All rights reserved