POLYNESIAN UNDER BOOBS TATTOO DESIGN by Juno (custom tattoos on line)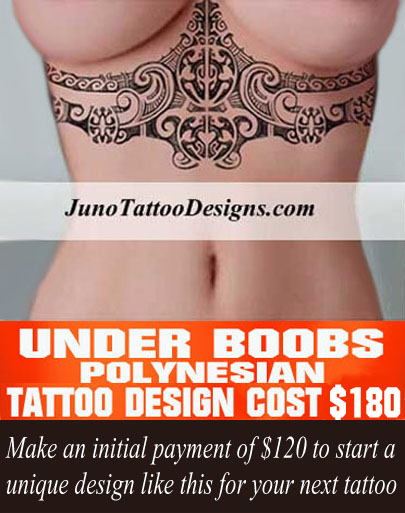 (click to zoom)
DESIGN COST
$120
Do you like it? Get a custom design like this for your next tattoo 100% ONLINE
UNDER BOOBS TATTOO (Product code UB-Poly 122) – TATTOO DESIGN COST
$120

(INITIAL PAYMENT TO START THE TATTOO DRAFTS

$60

)
1) Contact me to get your custom under boobs tattoo design. You can send me a couple of reference pictures if you wish.
2) After the initial payment of $60 we will work together draft by draft until the design looks as you wish. This can take no more than a couple of revisions.
3) You make the final payment of $60 for the finished design in high resolution and the tattoo stencil.
4) I'll send to your email account your custom tattoo design and stencil ready to do your dreamed tattoo in any tattoo shop of your area.
Why I should make an initial payment to start the drafts? Fortunately, I receive a lot of request by week and I cannot start a tattoo design for free for each potential customer. Thanks for your understanding!
Is this a secure purchase? Is my personal information protected? All purchases are handled through a secure PayPal transaction. No sensitive information is exchanged on my site, or outside of PayPal.
How we will work in the tattoo design? We work by email. I have made thousands of tattoo designs 100% online since 2010 for people of USA, Canada, Brazil, France, Italy, Spain, Australia, Norway, Filipines,New Zealand, Mexico and many others.
Great quality work! Good communicator and I didn't have to change a thing on the design. Juno made it according to my liking from the start. So glad I got it designed to my liking as opposed to getting a random tat. I highly recommend his service! Thanks Juno!
Juno designed a large piece for me. He worked quickly, communicated often, took my input very well, and turned out a lovely finishe piece. I would recommend him to anyone!
Can highly recommend Juno amazing work completed very quickly to a excellent level and quality will be using him again in the future.
Stuart