These are some samples of my custom tattoo designs for full arms (shoulder to wrist) in Polynesian, tribal and Aztec style, or mixing these styles.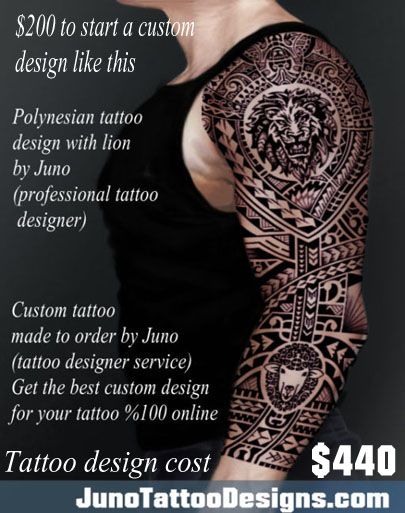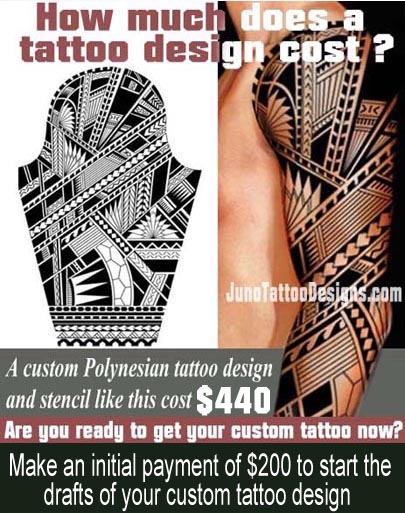 Do you want a custom tattoo like these?



Cool!,

It will be a pleasure to create your custom tattoo

100% ONLINE

.
HOW DOES MUCH A TATTOO DESIGN LIKE THESE COST?  A tattoo design and stencil like these cost $440. $220 to start the tattoo design

I OFFER TO CREATE AN UNIQUE TATTOO DESIGN and STENCIL LIKE THESE FOR YOU 100% ONLINE. Get a custom tattoo in Polynesian style similar to these samples adding the Polynesian symbols, elements, designs to tell your own story. We can add turtles, sun, spear heads, shark teeth, ocean waves, coconut leaves and other classic Polynesian symbols. Also dates, names, personal symbols. Or an Aztec tattoo (Mesoamerican/Aztec/Inca art) about Aztec calendar, feathered serpent,Inca or Aztec gods, temple, ornaments.
POLYNESIAN and AZTEC TATTOO for FULL ARM (shoulder to wrist): a unique tattoo like these cost $440. Make the intial payment of $220 to start yours.
Note that you do not make any payment into my site, only through PayPal
CUSTOMER TESTIMONIALS
Juno is awesome!, very professional. He worked quickly and kept in constant contact regarding the design, he came up with the perfect sketch. I look forward to having Juno design my next tattoo. Would recommend to anyone looking for a unique tattoo design
Juno designed a large piece for me. He worked quickly, communicated often, took my input very well, and turned out a lovely finishe piece. I would recommend him to anyone!