These are some samples of custom Polynesian tattoo designs made by me for full arms or 3/4 sleeves.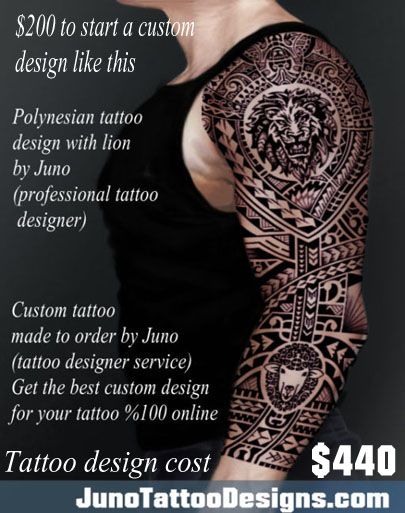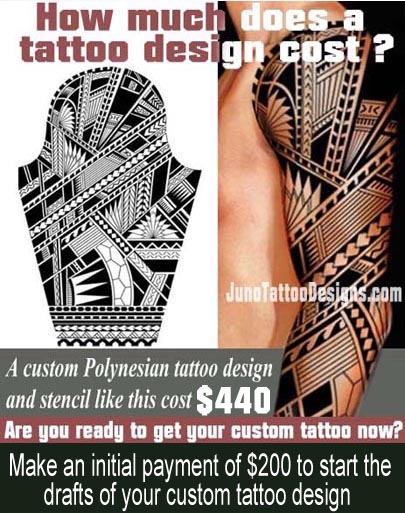 Do you want a custom tattoo like these?



Cool!,

I'm Juno, professional tattoo designer and It will be a pleasure to create your custom tattoo

100% ONLINE

.

A custom tattoo design in Polynesian or Aztec style for a full arm (shoulder to wrist), or 3/4 sleeve (shoulder to below the elbow) cost from

$380 to $440 (depending on the complexity and style of the tattoo design)

If you want a custom design similar to any of these (same tattoo theme and body area) make the initial payment of $200 using the PayPal button and I'll contact you TODAY to start your tattoo design, according to the description and examples that you send me thru the Tattoo Form.$200 to start your custom tattoo design
I OFFER TO CREATE AN UNIQUE TATTOO DESIGN and STENCIL LIKE THESE FOR YOU 100% ONLINE. Get a custom tattoo in Polynesian style similar to these samples adding the Polynesian symbols, elements, designs to tell your own story. We can add turtles, sun, spear heads, shark teeth, ocean waves, coconut leaves and other classic Polynesian symbols. Also dates, names, personal symbols. Or an Aztec tattoo (Mesoamerican/Aztec/Inca art) about Aztec calendar, feathered serpent,Inca or Aztec gods, temple, ornaments..
START NOW! Send me the form below and I'll contact with you to start your design.

CUSTOMER TESTIMONIALS
Can highly recommend Juno amazing work completed very quickly to a excellent level and quality will be using him again in the future.
Stuart
Juno is awesome!, very professional. He worked quickly and kept in constant contact regarding the design, he came up with the perfect sketch. I look forward to having Juno design my next tattoo. Would recommend to anyone looking for a unique tattoo design