Polynesian Tattoo design and stencil (forearm) by Juno (custom tattoos online)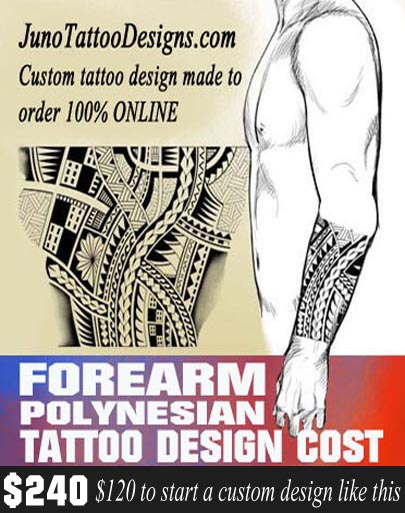 (click to zoom)
TATTOO DESIGN
COST $140
That's a Polynesian tattoo design made by me to cover the entire forearm (elbow to wrist)

. Dozens of strips and areas of shark teeth, spear heads, coconut leaves and other classic Polynesian designs looks great on that tattoo. 
I'm Juno, professional tattoo designer. If you are looking for a custom design like this for your tattoo I can do this 100% ONLINE
Polynesian Forearm tattoo DESIGN and Stencil (Product code PolyFore-321) – TATTOO DESIGN COST
$140

(INITIAL PAYMENT TO START THE TATTOO DRAFTS

$80

)
1) Click on the ORDER A SIMILAR TATTOO button to do the initial payment of $80 to start the tattoo drafts.
2) We will work together draft by draft until the design looks as you wish.
3) You make the final payment of $60 for the finished design in high resolution and the tattoo stencil.
4) I'll send to your email account your custom tattoo design and stencil ready to do your dreamed tattoo in any tattoo shop of your area.

Why I should make an initial payment to start the drafts? Fortunately, I receive a lot of request by week and I cannot start a tattoo design for free for each potential customer. Thanks for your understanding!
Is this a secure purchase? Is my personal information protected? All purchases are handled through a secure PayPal transaction. No sensitive information is exchanged on my site, or outside of PayPal.
How we will work in the tattoo design? We work by email. I have made thousands of tattoo designs 100% online since 2010 for people of USA, Canada, Brazil, France, Italy, Spain, Australia, Norway, Filipines,New Zealand, Mexico and many others.
Was very patient with me and listened to my feedback, cant recommened enough.
Juno did a great job on my tattoo design. He was fast and very responsive and together we came up with a design that not only looks great but also I ncorporates symbols that are meaningful to me. I'd recommend him to anyone. Thanks Juno!
The transaction was extremely smooth. Communication was great and his skills are amazing. I finally got a design that blends perfectly well with my existing tattoo and at record time. Thank you Juno.