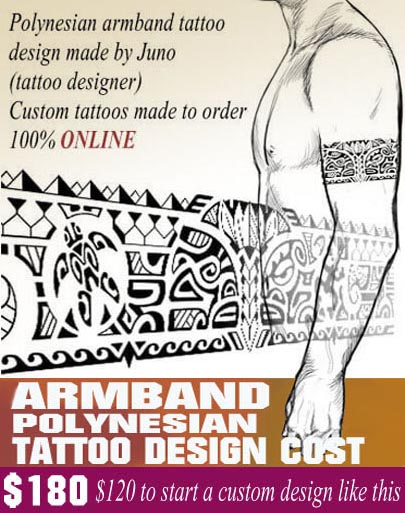 Polynesian Armband Tattoo design and stencil (for upper arm, forearm or calf) by Juno (custom tattoos online).
In a tat like this we can add a turtle and/or a tiki face and the classic Polynesian designs that you prefer to create a cool tattoo. 
Get your unique design and the tattoo stencil in this style for $120 ($60 to start the tattoo drafts)
(click to zoom)
I'm Juno, professional tattoo designer. If you are looking for a custom design like this for your tattoo I can do this 100% ONLINE
A Polynesian armband tattoo DESIGN and Stencil like this cost
$120

(INITIAL PAYMENT TO START THE TATTOO DRAFTS

$60

)
1) Send me a Form and describe what Polynesian armband you want. You can add a couple of reference pictures if you wish.
2)With a down payment of $60 we start the tattoo drafts and we will work together draft by draft until the design looks as you wish. This can take no more than a couple of revisions.
4) You make the final payment of $60 for the finished design in high resolution and the tattoo stencil.
5) I'll send to your email account your custom tattoo design and stencil ready to do your dreamed tattoo in any tattoo shop of your area.
Start your unique tat design for $60 and send me a tattoo Form to tell me more about the design that you prefer. It will be a pleasure to create the best design for your tattoo!
Why I should make an initial payment to start the drafts? Fortunately, I receive a lot of request by week and I cannot start a tattoo design for free for each potential customer. Thanks for your understanding!
Is this a secure purchase? Is my personal information protected? All purchases are handled through a secure PayPal transaction. No sensitive information is exchanged on my site, or outside of PayPal.
How we will work in the tattoo design? We work by email. I have made thousands of tattoo designs 100% online since 2010 for people of USA, Canada, Brazil, France, Italy, Spain, Australia, Norway, Filipines,New Zealand, Mexico and many others.
Juno did a great job on my tattoo design. He was fast and very responsive and together we came up with a design that not only looks great but also I ncorporates symbols that are meaningful to me. I'd recommend him to anyone. Thanks Juno!
Amazing work! I love my tattoo. Juno has done a magnificent design for my tattoo. Highly recommended!!
Joseph

Send me your query through this easy contact form and get a free quote. Tell me what design you want for your tattoo, I would like the best custom design and template for you 100% online!
Juno(custom tattoo designer)